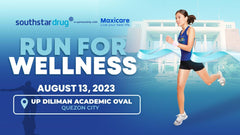 Are you ready to dust off your running shoes and embrace a healthier, more active lifestyle? Join us on August 13, 2023, at the iconic UP Diliman Academic Oval for the RUN FOR WELLNESS fun run! This exciting event, organized in collaboration with Southstar Drug and Maxicare Healthcare Corporation, aims to promote overall well-being and encourage participants to live their best lives. Whether you're a seasoned runner or just starting your health and wellness journey, this event is for you!
Run for Wellness is not just a run; it's a celebration of embracing a healthy lifestyle and nurturing a positive mindset. We believe that by taking care of our physical and mental well-being, we can unlock our full potential and live life to the fullest. This fun run provides an opportunity for participants to take a step towards a healthier future while enjoying an exciting and energetic atmosphere.
Everyone is welcome to join the Run for Wellness regardless of your fitness level or age. Whether you're a health enthusiast, a pro runner, or just starting your health and wellness journey, this event is designed to cater to all participants. Choose from three different distances: 3KM, 5KM, or 10KM, based on your preference and fitness level.
Run for Wellness promises an unforgettable experience filled with excitement and fun. As you make your way through the scenic UP Diliman Academic Oval, you'll be cheered on by enthusiastic fellow runners. But that's not all! Look forward to live music, energetic warm-up sessions, engaging activities, and brand partners offering amazing freebies.
To secure your spot in this fun-filled event, visit our registration site to register online. Participants can also register by purchasing at least one participating item in-store at Southstar Drug with a minimum spend amount. Check the list of participating stores here. Register early to guarantee your slot and receive an exclusive event kit filled with goodies to enhance your experience.
Run for Wellness is proud to be a brand alliance between two healthcare giants, Southstar Drug and Maxicare Healthcare Corporation. This collaboration reflects their shared commitment to promoting health, wellness, and a better quality of life for all participants.